Antun Mataić (also reported as Antun Matajić-Tunja)[1] was a Croatian who killed seven people and wounded an eighth at the café "Trenk" in Podvinje, a village near Slavonski Brod, Croatia on April 14, 1998.
That night Mataić had a drink at the café and afterwards left, but shortly thereafter, at about 10 p.m., he returned with a Kalashnikov semi-automatic rifle and opened fire at the guests, killing six men and one woman, and seriously wounding a 44-year-old man.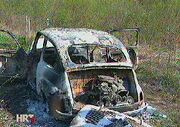 The 50-year-old then escaped in his car, and at approximately 1:45 a.m. committed suicide at the shooting range "Petnja" near Sibinj, a few kilometres away from the crime scene, either by exploding a hand grenade,[2] or by setting his vehicle on fire and shooting himself.[3][4][5][6]
Mataić, who was born in Završje, Brod-Posavina County, Croatia on May 8, 1947,[7] had already threatened people in the café with murder a few days prior to the shooting.[1]
Pavo Barisic, 23
Tomislav Farkas, 33
Gordana Lesar, 22
Ilija Odobasic, 24
Ivica Sabljak, 35
Marijan Spehar, 19
Ivan Vrdoljak, 41
Wounded was Ilija Reljanovic, 44.[8]
References
Edit
↑ 1.0 1.1 Likvidirao obitelj jer žena nije htjela preseliti na selo?, Novi list (May 26, 2009)
↑ Najteži zločini u Slavoniji, Jutarnji list (November 12, 2006)
↑ Sieben Menschen in einer Gaststätte erschossen, Stuttgarter Zeitung (April 16, 1998)
↑ Amoklauf auch in Kroatien, Oberösterreichische Nachrichten (April 16, 1998)
↑ Kroatien: Amokschütze tötet sieben Männer in Gaststätte, Frankfurter Allgemeine Zeitung (April 16, 1998)
↑ KRATKE VIJESTI IZ HRVATSKE, HRT (April 23, 1998)
↑ SLAVONSKI BROD: UBIJENO SEDMERO OSOBA, HRT (April 15, 1998)
Community content is available under
CC-BY-SA
unless otherwise noted.