Avraham Ezra
Background information
Birth name
Avraham Ben-Solomon Ezra (אברהם בן-סלמן עזרא)
Occupation
Soldier
Born
ca. 1951

Attack information
Date
February 4, 1975

Location(s)
Netanya, Israel
Target(s)
Bar-Orion
Killed
6
Injured
26
Weapon(s)
Hand grenade
Avraham Ezra was an Israeli soldier who killed six people and wounded 26 others at a nightclub in Netanya, Israel on February 4, 1975. [1][2][3]
Background
Edit
Avraham Ezra had a long history of delinquency, [4] having spent years in a private institution for delinquent youth. During his time as a ward, he became addicted to drugs, and was described by a social worker as "dangerous and drug-addled." His friend Yossi, who was among the initial suspects, claimed that he began smoking and doing drugs by the age of 10. At some point he ran away from this institution and went home to his parents. [5]
Ezra ran a vegetable stall with Yossi in Netanya for two years, but the stall was removed by the Netanya municipality six months prior to the attack. It was around this time that he moved out of his parents' place to live with his friend Benjamin Chaim, who was also among the initial suspects in the grenade blast. His mother begged him to come home and "start to be a human being", but he refused. After leaving home, he continued to deteriorate. He spent his time doing drugs and gambling over cards in Netanya, losing thousands of pounds. His sister Carmela would later report, "He did not live with us. Maybe once a month he would come to class." [5]
Eighteen days before the attack, Ezra was ordered to serve 62 days of military service at a recruits' base under a special program for delinquent youth. His medical profile was posted. His first night on the base, he was arrested for stealing grenades. He remained in custody for fifteen days, and was released on bail a few hours before the attack. [5] Sometime that night, Ezra resumed his long-time habit of consuming drugs. [6]
On the evening of February 4th, 1975, Avraham Ezra slipped a hand grenade into his military pocket and headed to the Bar-Orion discotheque, a popular nightclub for young Israeli soldiers. He arrived by 9 PM and waited outside by the entrance of a nearby house, conversing with friends. At 10 PM, Ezra entered the discotheque with a friend, without paying, and sat down at the bar. A friend of his was waiting outside until 10:30 PM. During this time, Ezra got into a quarrel with the manager of the bar, who reported him to the police, [7] and he left the discotheque within an hour and a half, though he remained in the area. [8] At 11:30 PM, Ezra went behind the building, climbed onto the roof, removed a net covering a fan in the ventilation system, moved the fan out of the way, and threw a grenade through the vent which led to the main floor of the discotheque. [6]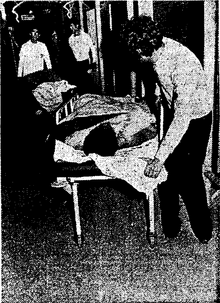 Five were killed in the initial blast, and twenty-seven more were injured, three in critical condition. Ezra then returned to the main entrance to help the injured, where he was captured. [9] After several days, one of the wounded, Reuven Hassan, succumbed to his injuries, bumping the bodycount up to six. [10][11][12]
Killed:
Ariella Ashram, 24
Shula Barron, 19
Esther Levi, 19
Rafi Maimon
Yosef Tobi, 19 [13]
Reuven Hassan, 19, soldier [14]
Twenty-six unidentified disco-goers were injured as a result of the grenade. Another man, not directly injured by the blast, was sent to the hospital after experiencing shock. [9]
Aftermath
Edit
Ezra was arrested the night of the attack for assault along with at least four others,[15] and was one of at least 20 suspects in the grenade blast. (Another source claimed that 12 were arrested in connection with the attack [16], and another report stated that as many as 30 people may have been arrested throughout the investigation.) [5] In the immediate aftermath of the attack, it was believed that the carnage was the result of gang violence as opposed to terrorism. [17][18] However, it was eventually realized that the attack was neither the result of gang violence nor terrorism. Ezra underwent three recording sessions, during which he admitted his guilt in the grenade blast. [19][20] Relatives reported that Ezra's mother, before learning the identity of the grenadier, proclaimed, "I wish they would burn the person who committed the crime." [5] On the morning that Ezra was taken into the Netanya magistrate court, the investigation team brought him back to the Bar-Orion discotheque to re-enact the events of the night. According to witness testimonies, investigators believed other young men or women had accompanied Ezra that night. [9]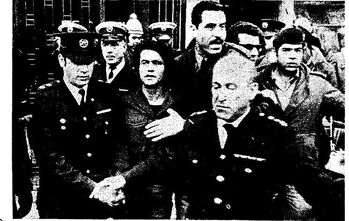 Ezra attended his preliminary court proceedings dressed in an IDF uniform, despite his status as an army deserter. [21][4] He was noted to smile often and joke with the guards. At the initial court hearing, he told the judge that he had no intention of murdering or otherwise harming Israeli soldiers. [22] He stated: "I threw the grenade to explode on the roof of the discotheque and cause noise, I am sorry that I did it and share the grief of the bereaved families." When questioned by the judge, he repeated this statement. Ezra was remanded for a 15-day detention until further charges could be brought against him. Two of the other suspects, allegedly friends of Avraham Ezra, were charged with assault and threatening the manager in relation to events earlier that night. [5][23]
Ezra eventually admitted to receiving help in committing his crimes, as the fan covering the entrance to the vents required the strength of more than one person to be moved. [6] By April 10th, Avraham Ezra, 24, was indicted on six counts of murder, among other charges. He was undergoing psychological evaluations at this time. [7] [24] By June 20th, the trial had to be postponed because the court psychiatrists could not determine whether or not he was fit to stand trial. [25] By September 30th, his trial was postponed a second time. His psychiatrist determined that he was unfit to stand trial while in medical treatment. One week after his arrest, Ezra ceased speaking at all for a time [26] and began receiving tranquilized injections and medications. After a few weeks, he started speaking with children and family again, but he continued to refuse to speak to any doctors or lawyers. [27] [28]
By December 16th, Ezra had another court date. One of his appointed doctors claimed that Ezra was detaching himself from his environment and may have even been suffering from schizophrenic delusions. However, his separation from the outside world, the court doctor declared, was derived from an unnecessary fear of punishment. Ezra was deemed fit to stand trial. [26]
In the weeks following the attack, young students were attracted to the site of the mass killing. The municipality intervened and barred visiting students from entering the discotheque for a time. [29]
References
Edit
Community content is available under
CC-BY-SA
unless otherwise noted.