Charles Davis Lawson was an American tobacco farmer who killed his wife and six children in Germanton, North Carolina, United States on December 25, 1929, before committing suicide.[1][2][3][4][5][6][7]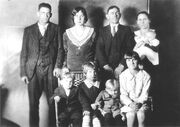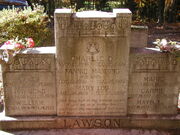 Fannie Manring Lawson, 37, his wife
Marie Lavon Lawson, 17, his daughter
Carrie Lawson, 12, his daughter
Maybell Lawson, 7, his daughter
James William Lawson, 4, his son
Raymond Lawson, 2, his son
Mary Lou Lawson, 4 months, his daughter
Bibliography
Edit
Jones, M. Bruce & Smith, Trudy J.: White Christmas-Bloody Christmas: Finally the True Story of the Lawson Family Murders of Christmas Day; UpWords Publications, 1990. ISBN 9780962810800
Smith, Trudy J.: The meaning of our tears: The true story of the Lawson family murders, Christmas Day 1929; DTS Group Inc., 2006. ISBN 9780978802608
Casstevens, Frances H.: Death in North Carolina's Piedmont: Tales of Murder, Suicide and Causes Unknown; The History Press, 2006. (pp. 79 - 85) ISBN 9781596291966
Hodges, Matt: A Christmas Family Tragedy; Break of Dawn Productions, 2006. (documentary)
References
Edit
External links
Edit
Community content is available under
CC-BY-SA
unless otherwise noted.