Charles Pinkston (also identified as Charles Pinkerton, or Pinkard) was an American vendor who killed one person and wounded at least 14 others in Birmingham, Alabama, United States on October 10, 1927, before being shot dead by police.[1][2][3][4][5]
Pinkston, who either worked was an ice cream or soft drink vendor, had told his friends on various occasions that "the next white man who insulted him must die fighting," and that "living in the South was becoming unbearable to any man with self-respect".[6]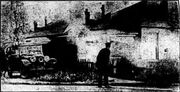 On the afternoon of October 10, 1927 Pinkston's stand was inspected by the city's sanitary inspector George Kirchoff. Angered when he was cautioned about the condition of his freezers he grabbed a knife and slashed the inspector's throat, before fleeing home. After arming himself with a shotgun he went to a nearby vacant house, where he barricaded himself out of fear of a mob attack. Deputy sheriff Samuel Williams arrived at the scene a few minutes later to arrest him, but when he approached Pinkston's shelter the latter fired at him with his gun, hitting him five times in the abdomen. Williams died of his wounds on October 13.[6][7][8][9][10][11][12]
All available police officers, more than 50 in number, were immediately dispatched to the crime scene, and soon more than 5,000 mostly armed civilians gathered in the street to watch the siege. Police initially attempted to force Pinkston out with gunfire, and when this failed they unsuccessfully tried to set fire to the building. All the while Pinkston continued shooting with his shotgun through windows and holes he had drilled into the walls, thus keeping police at bay for over an hour and hitting in the process several policeman trying to take Williams to an ambulance, as well as a number of bystanders. When additional police forces arrived an armored police car was driven alongside his hideout and five tear gas bombs were thrown inside. Staggering through the gas filled building he was then shot and killed either by detective Woody Sandefer from the roof of a nearby dwelling, or by deputy sheriff John Green, who had managed to break into Pinkston's fortress.[6][7][8][9][10][13][14]
Informed of Pinkston's death police officers stormed the building, fired more than fifty rounds into his body, and then dragged his perforated remains into the open, whereupon several hundred people broke through the police cordon and trampled his corpse, until they could be restrained. More than 500 shots were fired during the incident.[6][7][8][9][10][15]
Samuel L. Williams, 38, police officer[16]
Those wounded were:
George Brown, shot in the leg
George Dorsey, shot in the neck
Charles Franklin, shot in the foot
D. W. Gore, police officer, shot three times in the arm
E. W. Jackson, police officer, shot in the leg, or head
Mann Johnson, shot in the head, or chest
George F. Kirchoff, sanitary inspector, cut with knife
Milton E. McDuff, police officer, shot in the stomach
W. B. Mitchell, police officer, shot in the hand
Harry E. Morris, police officer, shot in the leg
Mrs. A. M. Ruddamus, shot in the leg
P. H. Stapp, police officer, shot in the head
J. A. Walton, shot in the face and body
W. H. Ware, police officer, shot in the arm
Unknown bystander
References
Edit
Further reading
Edit
Community content is available under
CC-BY-SA
unless otherwise noted.