DeWitt Charles Henry
Background information
Occupation
Truck driver (unemployed)
Born
April 1951

Penalty
Life imprisonment
Imprisoned at
Snake River Correctional Institution
Parents
Andrea Henry
Spouse(s)
Vikki Powlass
Attack information
Date
July 23, 1977
2:10 a.m.
Location(s)
Klamath Falls, Oregon, United States
Target(s)
Guests at Uncle Albert club
Killed
6
Injured
1
Weapon(s)
.223-caliber semi-automatic rifle
DeWitt Charles Henry (alias Dee Charles Henry, alias Charles Dewitt Henry, alias Chuck Henry) was an American unemployed truck driver who killed six people and wounded a seventh at the Uncle Albert club in Klamath Falls, Oregon, United States on July 23, 1977, before being arrested. He was sentenced to six consecutive life terms on December 18, 1979 and is currently held at the Snake River Correctional Institution.[1][2][3][4]
Henry was born in April 1951 and adopted at birth by a farmer in Wasco, California. He had an adoptive brother, eight years his junior, who suffered from mental retardation. Henry attended Wasco Union High School, where he was considered an average student – he went out for the Wasco High football team and participated in Future Farmers of America activities, but beyond that was not particularly active, or someone who otherwise stood out, according to the school's former vice principal, Frederick George. He graduated from high school in 1969 and the same fall attended Bakersfield College, but apparently he dropped out again some time during the following year.[5][6][7]
On July 4, 1971 Henry drove in his sports car along Highway 41 at 80 to 85 miles per hour. Six miles west of Atascadero he crashed head-on into a car carrying 30-year-old Glenna Holmes, her husband, and their four children. Holmes succumbed to her injuries four days later. Henry was originally charged with felony drunk driving and manslaughter, but the charge was later reduced to misdemeanor manslaughter, of which he was convicted the same year. He lost his driver's license, except for travel between home and work, was fined $500, and sentenced to 14 weekends in jail, which he served in late 1971 and early 1972.[8][9]
In 1972, after completing his sentence and following the death of his adoptove father the same year, Henry moved to Oregon, and even though his adoptive mother, Andrea, moved to Klamath Falls as well he retained little contact with her afterwards. After his resettlement to Klamath Falls he joined the Navy, but was eventually discharged for health reasons and subsequently held various jobs. About a year prior to the shooting he worked as bouncer at the Uncle Albert club, and in 1977 he was employed as relief driver by Lanier Brugh, Inc. in Portland to transport mail from Eugene to Klamath Falls, but was fired there after two months, because he was found to be threatening and belligerent. His last employment in July 1977 was for four days as the driver of a water truck.[5][8][9][10][11]
In February 1977 Henry married Vikki Pawlass, who brought two children into the union from her previous marriage. According to Henry's court testimony his wife's former husband caused $3,500 damage to their home after their marriage and also threatened to kill him, Pawless, and her two sons, whereupon he sent his wife to stay with a friend, while he called the police and slept on the couch with guns beside him.[10][12]
Henry apparently suffered from psychological problems. In May 1977 he tried to commit suicide by taking an overdose of drugs, according to his wife, who described him as "a good man" after the shooting, he was "kind of funny" during the three weeks leading up to the murders on July 23, and going by his own testimony he was without sleep for five nights at that time. His wife eventually filed for divorce which deeply upset him.[10][12][13]
On July 21 Henry was served with the divorce papers, whereupon he went to see his wife in an attempt for reconciliation, but the situation apparently escalated, as he pointed a gun to her head and stated that he would kill her. When Vikki said she would come with him in his truck, if he promised not to hurt her, he drove her at gunpoint into the woods east of town. There he put the gun to his head, threatening suicide, but eventually threw it out of his car, when Vikki agreed to come back to him, if he'd discard his weapons. They then drove back home and spent the night together, however, the following morning Vikki told him she decided against going back to him. Henry drove off to retrieve his guns from the brush and spent the rest of the day drinking beer. According to his own testimony he also smoked marijuana and took amphetamines.[10][12][14][15]
On July 22, just four hours before the shooting, Henry's wife asked for police protection while moving out of their home, but officer Kenneth Cooper, who was sent to her, told her he could not mediate in a family fight. She related the incident the previous day, when Henry kidnapped and threatened to kill her, though when Cooper asked her, if she wanted Henry arrested, she said no.[14]
Was afraid that his wife's former husband had send men to beat him up, [12]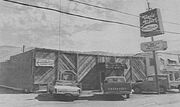 In the evening of July 23 Henry was at the Uncle Albert club located at 5711 S. Sixth Street, where he was ordered to leave after getting into a fight with another customer. He went to Poor Ol' Dan's, another nightclub, where he told a barmaid that he would take revenge for being thrown out of Uncle Albert's and a couple of hours later returned to the target of his ire. There he got into another argument, this time with the club's former? owner, Bill Ransom, who asked him to repay a bar bill of $180, and when Henry refused Ransom hit him. Enraged Henry told Ransom that he had a list of people he was going to blow away and he would put him at the top. He then left the facility, telling dishwasher James Williamson on his way out: "I always liked you – just get on out of here."[6][7][11][16][17]
Henry waited in his pickup truck in the tavern's parking lot, at 2:10 a.m. began firing with a civilian version of the M16 rifle at people leaving tavern. Was arrested after chase at 3:30 a.m. was taken to hospital and after treatment to county jail at about noon.[11]
Was thrown out of tavern after a fight, minutes later began shooting. At tavern apparently wrote a letter to his wife, went to sleep.[12]
Had an argument with the club manager before shooting, apparently about outstanding wages from his time working as bouncer there 1 1/2 years prior, shot people leaving club, Carol Seater was eight months pregnant, fetus died, sat in his pickup while firing, apparently waited for a large group leaviong tavern. Apparently told a barmaid at Poor Ol' Dan's, another nightclub, that he would seek revenge for being thrown out of Uncle Albert club. Weapon used was a .223-caliber smi-automatic version of the M16 rifle, Gary Anderson was apparently shot first. Robert Seater and Mortenson were critically injured, died in hospital later that day. Shooting started at about 2 a.m. when 50 patrons prepared to leave due to closing time. [18]
Six shot were sitting on a planter outside tavern while killed. Shooting occurred at 2:10 a.m. Henry was in parking lot. Henry had an argument with Anderson about 1 1/2 years prior to shooting. Argument at club was over $180 Henry owed the club owner.[19]
When state trooper Michael Spencer arrived at the scene he fired twice with his shotgun at Henry's pickup truck as he drove from a nearby church parking lot. Chased Henry in his car until Henry drove into driveway and fired ten to twelve rounds at Spencer, shattering windshield and two side windows. Henry backed into Spencer's car, drove off, Spencer fired six times with revolver at him, took up pursuit. Kenneth Cooper joined chase, eventually rammed into the car, bringin it to a halt and wounding both, fired six times with pistol thrice with shotgun at Henry, slightly wounding him in face and arm. Henry was arrested, armed with a sawed-off 12-gauge shotgun, a carbine/pistol/Navy replica of an octagon barrel military rifle, and a semi-automatic rifle with 30 rounds.[18][14]
was wounded in left arm[16]
police cars shot 12 times, Henry was unconscious when arrested, was hit by buckshot in face and arm, Henry fired at least twelve rounsd at victim, hitting them 11 times[10]
Cooper grazed in side when Henry fired four rounds into his car when crashed.[10][20]
At the time of shooting had 0.9‰ alcohol in his blood, no other drugs were found. Gary Anderson was killed by a shot through the heart.[21]
Had an argument with Anderson one and a half years prior, none of those shot were involver in argument that day, were shot while sitting on planter[7]
Gary Lee Anderson, 27[22]
Michael Gene Mortensen, 23
Robert Dale Seater, 26
Carol Ann Seater, 23, wife of Robert Seater
James L. Trueman, 25
Andrew Lane Walker, 23
Wounded by a bullet that grazed his side was police officer Kenneth Cooper.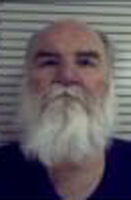 was held without bail at prison was charged with six counts of murder and two counts of attempted murder during araignment on July 25. Was protected by police due to threats by victim's firends and relatives[23][16]
Was threatened by angry residentsm was arraigned under tight security measures[19][24]
was indicted on July 27, $250,000 bail for each? attempted murder charge, no bail for murder charges[16][25][26][27]
In prison Henry became a born-again Christian.[28]
On August 4 pleaded not guilty at the Klamath Falls Circuit Court.[29]
Was held at the Klamath County jail, was two months at Oregon State Hospital for psychiatric tests, divorce was granted July 17, finalized August 3, 1979. In January 1979 Henry was denied permission to marry another county jail inmate Marge Kennedy for security reasons.[30]
The trial was moved from Klamath Falls to Portland to ensure fairness, commenced on November 3, 1979.[31]
Henry pleaded innocent by reason of mental disease or defect, attorneys claimed he was irrational due to depression over divorce, drugs and alcohol abuse. D. Rogers Smith, who talked to him three months after shooting, while Henry was at Oregon State Hospital concluded that he suffered from chronic and acute organic brain syndrome and an acute paranoid psychotic disorder. Also said he had a poor ability to think abstractly, had a serious drinking problem. Henry also claimed to have been without sleep for five days before the shooting.[21]
Henry stated he couldn't remember anything between fight at the nightclub and awaking handcuffed in prison, but psychologists and psychiatrists came to the conclusion he knew what he was doing when he opened fire, knew right from wrong, but was emotionally disturbed because his wife had filed for divorce. Between October 12 and November 15 was held at the Oregon State Hospital in Salem. According to Wesley Weissert, who examined him, Henry had a passive aggressive personality.[13]
On November 9, 1979 he was convicted by the Multnomah County Circuit Court of six counts of murder and two counts of attempted murder, the latter for the shots he fired at the pursuing police officers.[32][33][34]
On December 18 he was sentenced to six consecutive life terms plus 40 years for the two counts of attempted murder.[35][36]
As of May 2016 he is an inmate at the Snake River Correctional Institution.[37]
Henry arraigned, The Spokesman-Review (July 27, 1977)
Six slain in local shooting, Herald and News (July 24, 1977) (p. 1)
KF murder case delayed further, Herald and News (February 8, 1979) (p. 1)
DeWitt Henry claims he can't remember shootings, Herald and News (November 8, 1979) (p. 1)
DeWitt Henry now a born-again Christian, Herald and News (November 8, 1979) (p. 1)
DeWitt Henry convicted in six murders, Herald and News (November 11, 1979) (p. 1)
Apology by mass murderer DeWitt Henry published, Herald and News (July 27, 1980) (p. 1)
Community content is available under
CC-BY-SA
unless otherwise noted.