Douglas Arthur Mozingo was an American who killed three people and wounded nine others at a bar in Sacramento, California, United States on October 1, 1982. He was subsequently arrested, but committed suicide in his prison cell on October 27, 1985, before he could be convicted.
Mozingo was born in Sacramento County, California on April 22, 1953 as the youngest of eleven children of Cecil Earl Mozingo and Esther F. Glasgow. According to Mozingo, his father was a strict and rigid disciplinarian, who forbade his children to leave their home except for school, and would beat them with a belt or rubber hose on the slightest infraction.[1][2]
Mozingo grew up in Galt and went to Archoe Elementary School, before attending Galt High School, where he had severe disciplinary problems, was known for his explosive temper and attacked other students without provocation. He also started to drink alcohol excessively from an early age which only aggravated his behavioural issues. His school counselor described him as a paranoid, rebellious, and potentially dangerous bully, and recommended to his parents that they seek counseling for him, but the old Mozingo declined and decided to tackle the problem with more severe puishment.[1]
Mozingo quit high school in the eleventh grade, leaving it without earning a diploma, and joined the army when he turned eighteen, but due to his lack of discipline, him constantly going AWOL and not following orders, he was undesirably discharged after ten months. Afterwards he worked as a farm labourer in the Galt area and became acquainted with Tanya Reyes who already had two daughters and who would become his common-law wife, but despite their good relationship Mozingo began to drink heavily again.[1]
In November and December 1974 Mozingo committed a number of armed robberies near the Victoria Station Restaurant in Sacramento, and was arrested by police on December 23, while fleeing the crime scene. He was accused of five robberies and pleaded guilty to two of them, whereupon he was sentenced to two years in prison and incarcerated at the Deuel Vocational Institution near Tracy. According to prison officials he was a responsible near-model prisoner, and during his time at the facility learned the trade of cabinetmaking.[1]
On March 27, 1977 Mozingo joined a work furlough program at the Valley Community Corrections Center in Sacramento, and after his release began to work for a furniture store. Together with Reyes and her daughters he moved into a house in Sacramento and set up a workshop in his garage. After a while they moved to Idaho, but only stayed there for a year and eventually returned to Sacramento, where they lived in a house on Sunnyslope Drive. Among his neighbours there he was known as a constantly drunk ne'er-do-well who harassed the women in the area, and his family and relatives were afraid of him. At the time of the shooting he was unemployed.[1][3]
Mozingo was the uncle of Ronny William Mozingo, who had been sentenced to death on March 18, 1980 for raping and murdering his stepmother six months prior,[4] as well as the step-uncle of Thomas Robert Soria, who committed suicide in prison when facing the death penalty for raping and murdering 9-year-old Krystal Steadman together with his son Thomas Robert, Jr. on March 19, 2000.[5]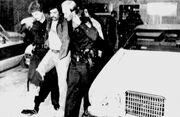 On October 1, 1982, at about 3 p.m., Mozingo and another man drove to an "end of summer" celebration at the Mother Lode bar, located about 4 miles north of the California State Capitol and about 1 mile from his home. The two had a couple of drinks and left again at about 4:30 p.m., but returned half an hour later. Mozingo continued drinking, and at approximately 7:30 p.m. got into an argument with one of the guests, who had made a derogatory remark about his claim that he was a mercenary waiting for a good fight. When he attacked the other patron, Mozingo and his companion were thrown out by Ron Muller, the owner of the establishment. Asked by Muller what the argument was about he stated that his wife had been grabbed by her hair and pulled to the floor and afterwards apologized for the commotion.[1][6][7]
About two hours later, at 9:26 p.m., Mozingo returned to the bar, positioned himself in the doorway, and opened fire at the 20 to 30 people inside with a pistol and a .30-caliber semi-automatic rifle, killing in the process Pamela McCoy and Randall Sherwood, fatally hitting Rhonda Lyons, who died at hospital a few hours later of gunshot wounds in the chest, and wounding nine others. Two of the injured, Randolph Wooley, who was shot several times in the chest, leg, and arm, and Michael Pesut were taken to hospital in critical condition. Overall the attack lasted less than a minute.[1][6][8][9]
Outside the bar Mozingo shot at a passing car and then fled to a house at Green Tree Drive, while police and highway patrol cordoned off the area and started a ground and air search. Around midnight he eventually tried to commit suicide by an overdose of drugs and alcohol, but was found by two men who stated to be his brothers, and brought in serious condition to Sacramento Medical Center at about 12:30 a.m. There he was arrested before noon the same day and charged with three counts of murder and nine counts of attempted murder.[1][3][6]
Rhonda Faye Lyons, 26, shot in the chest
Pamela Ann McCoy, 27, shot in the chest and back
Randall Scott Sherwood, 28, shot in throat, arm, and chest
Those wounded were:
Kenneth Neal McGuire, 28, shot in shoulder and stomach
Michael Joseph Pesut, 32, shot in head, arm, and hand
Raymond Prather, 51, shot in right knee
Ronnie Reed, 40, grazed on the left side
Jake Renfro, shot in the buttocks
James Douglas Sherwood, father of Randall Sherwood, shot in the back
Ricky Linn Wolfe, shot in the chest
Randolph Wooley, 28, shot in the chest, leg, and arm
Michael Ynostroza, 28, shot in the leg
Aftermath
Edit
On October 4 Mozingo was interrogated by police for the first time and on October 6 he was arraigned at the municipal court on three counts of murder and nine counts of attempted murder. His public defender entered no plea.[1]
During the court proceedings Mozingo was held at the Sacramento County Jail, where he repeatedly got into violent altercations with other inmates. After the initial hearing at the municipal court his case was transferred to the superior court, but soon was handed back to the municipal court when it became clear that Mozingo's attorney had a conflict of interest. In the following months his trial had to be delayed several times, as the case was shifted between several judges and Mozingo's attorney was replaced a second time. In 1984 Mozingo fired his attorney altogether and decided to represent himself at court, but after a while changed his mind once again and rehired his defense team.[10]
In July 1985 the attorney of Mozingo's nephew Ronny, who was appealing his death sentence at the time, argued that his client could not get a fair hearing in Sacramento County due to the publicity of Douglas Mozingo's case, whereupon all proceedings in both cases were stopped and the matter transferred to the supreme court.[10]
Later that summer Mozingo bit off another inmates ear during one of his frequent fights and as a consequence was transferred to Amador County Jail, but there, too, his bellicose tendencies could not be restrained and he was sent back to Sacramento. In October Mozingo found his final destination at Placer County Jail, while his attorney filed to move the trial out of Sacramento County, because there he could not have a fair trial, as most jurors were not impartial.[10]
In the evening of October 26, 1985 Mozingo and three other inmates, Frank Morrell, George Jackson Newton, and David Dominguez, escaped from Placer County Jail through a fire door that was unlocked and unsecured due to a failure in the computer system. Out of the prison compound Jackson split off from the group, while Mozingo, Morrell and Dominguez went three miles to a house on Vernon Road, where they tied up the family living there, changed into civilian clothes, and stole several firearms. In the family's car the trio then drove along Interstate 80 towards Sacramento.[10]
Their absence was finally noticed during a prisoner count at 9:20 p.m., whereupon an extensive search operation was initiated, and some time later police was notified of the robbery at the house on Vernon Road. When Mozingo was spotted by a policeman, while filling up his escape car at a gas station in Rocklin, the officer called for backup and followed the three escapees on their way towards Sacramento. In Roseville police reinforcements eventually caught up with them, but they did not surrender without engaging in a car chase that ended only when Mozingo crashed the vehicle into a fence.[10][11]
On the morning of October 27 Mozingo was found dead in his prison cell in Placer County Jail. According to police he had hanged himself with his bedsheet on a wall vent, after tying his hands to his back and gagging himself, apparently to ensure that he would not change his mind and cry for help, though a police official also stated that he could have saved himself any time by stepping back onto his bunk. The nature of Mozingo's suicide led to some controversy and especially his relatives disputed the official version and accused the police of being responsible for his death.[10][12]
Bibliography
Edit
References
Edit
↑ 1.0 1.1 1.2 1.3 1.4 1.5 1.6 1.7 1.8

Scott, Robert: Like Father, Like Son; Kensington, 2002. (p. 38-50)

↑ 3.0 3.1 Murder suspect is hospitalized, Lodi News-Sentinel (October 4, 1982)
↑ Accused killers of Tahoe girl from a criminal family, Lodi News-Sentinel (April 8, 2000)
↑ 6.0 6.1 6.2 Gunman kills 3 in Sacramento, The Press-Courier (October 3, 1982)
↑ Three die in bar shooting, Park City Daily News (October 3, 1982)
↑ Barroom rampage kills trio, The Bend Bulletin (October 3, 1982)
↑ Gunman kills three, wounds seven in bar, Boca Raton News (October 3, 1982)
↑ 3 Accused Killers' Freedom Is Short-Lived: 4th Prisoner Also Recaptured After Fleeing Placer County Jail, Los Angeles Times (October 27, 1985)
↑ Alleged triple slayer dies in jail cell, Associated Press (October 28, 1985)
Further reading
Edit
Man held in bar killings, Star-News (October 3, 1982)
Three shot to death in bar; suspect held, Eugene Register-Guard (October 3, 1982)
Police hunt gunman in lounge shooting, Florence Times-Tri Cities Daily (October 3, 1982)
In brief - California gunman kills 3, The Michigan Daily (October 3, 1982)
Suspect arrested in killing of 3, Sarasota Herald-Tribune (October 3, 1982)
Police searching for gunman who killed 3 after argument, Ocala Star-Banner (October 3, 1982)
Gunman sprays pub; 3 die, Spokane Chronicle (October 2, 1982)
News in brief - Gunman kills 3, wounds seven in bar, The Norwalk Hour (October 2, 1982)
Suspect in slayings found dead in cell, The Gadsden Times (October 28, 1985)
Accused killer's hearing to remain open to public, The Sacramento Bee (May 1, 1984)
Slaying suspect ordered to stand trial in 1982 shootings at north area bar,The Sacramento Bee (May 18, 1984)
Mozingo trial will start 2 years after bar deaths, The Sacramento Bee (June 28, 1984)
Mozingo asks switch in trial site, The Sacramento Bee (August 24, 1984)
Accused killer fires attorneys - Bar slaying suspect to represent self, The Sacramento Bee (August 30, 1984)
Mozingo self-counsel order remains intact, The Sacramento Bee (September 28, 1984)
Two court-appointed attorneys fired by suspect may return to slaying case, The Sacramento Bee (October 2, 1984)
Attorneys rehired in slayings, The Sacramento Bee (October 4, 1984)
High court delays Mozingo trial, The Sacramento Bee (November 14, 1984)
Accused slayer denied new trial site, The Sacramento Bee (December 11, 1984)
Mozingo wins delay in jury selection, The Sacramento Bee (April 13, 1985)
2 slaying suspects want trials moved, The Sacramento Bee (July 17, 1985)
4 flee Placer jail; 3 soon captured, The Sacramento Bee (October 26, 1985)
Mozingo, 3 others captured - placer jail escapees behind bars again, The Sacramento Bee (October 28, 1985)
Mozingo found dead in Placer jail, The Sacramento Bee (October 28, 1985)
Survivors hold 'wake' at Mother Lode bar, The Sacramento Bee (October 28, 1985)
Mozingo struggled to delay his day of reckoning, The Sacramento Bee (October 29, 1985)
Mozingo bound self, sheriff says asserts suspect ensured his suicide, The Sacramento Bee (October 29, 1985,)
Placer plugging hole in new jail's security, The Sacramento Bee (October 29, 1985)
Deputies say Mozingo, 3 pals planned jail escape; getaway suspect arrested, The Sacramento Bee (December 6, 1985)
Community content is available under
CC-BY-SA
unless otherwise noted.