George Jo Hennard (born Georges Pierre Hennard) was an American unemployed merchant marine who killed 23 people and wounded at least 19 others at a Luby's cafeteria in Killeen, Texas, United States on October 16, 1991. He committed suicide after being shot and surrounded by police.
It was the deadliest mass shooting by a single perpetrator in the history of the United States at the time and remained so until April 16, 2007, when Seung-Hui Cho killed 32 people at the Virginia Polytechnic Institute and State University in Blacksburg, Virginia. It is the second deadliest mass shooting in the state of Texas, after the 2017 Sutherland Springs shooting.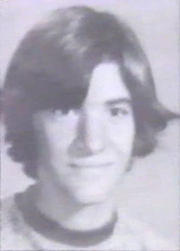 Hennard was born on October 15, 1956 in Pennsylvania as the son of Georges Hennard, a Swiss physician who worked for the US Army, and Jeanna. Due to his father's work the family moved frequently. He had a sister named Desiree and a brother named Robie. According to people who were close to the family they seemed cold and alienated from each other, with no interaction between the parents and their children. [1]
At school was a loner with no real friends and didn't get along with others. In the early 70s he joined a garage band as a drummer, but was kicked out by the other band members in less than a month due to his bad temper. When he suspected Tony Movsesian, one of his schoolmates, had stolen a hat from him, Hennard came to Movsesian's home for weeks, yelling at him and his family.[1] He graduated from Mayfield High School in Las Cruces, New Mexico in 1974 while his father was stationed at Fort Bliss.
After school Hennard joined US Navy, was honorably discharged in February 1977. Then joined Merchant Marines. Got into trouble due to his temper and his use of drugs which he used to quell his anger, Was suspended for six months in 1982 because of a fight with a black crew member aboard a ship. Hennard later acknowledged that the fight was racially motivated. According to James Dunlap, a friend and roommate of Hennard, he was openly hostile toward blacks, Hispanics, gays and women. He hated his mother and talked about choking her to death. Hennard never had a girlfriend, but occasionally used the services of prostitutes. His parents divorced in 1983.[1]
In 1989, the US coast guard banned him for life from working as seaman when he was caught with marijuana in his quarters of the Green Wave. In October the same year he tried to get his license back, admitted to drug abuse since high school at coast guard tribunal, that the drugs were ruining his life and stated to have enrolled in a drug rehabilitation program in Houston in July,[1] stated that the Merchant Marines "is all I've got - it's all I know." Revocation of his license was upheld in February 1991. Found work as construction worker.
Favourite songs: "Don't Take Me Alive" by Steely Dan and "Ain't Nothin' but a Word to Me" by American rapper Too Short.[1]
After being dismissed from the MM he lived in a two-storey home in Belton, belonging to his mother. He frequently argued with her. During the summer of 1990, he spent some time with his mother at her apartment in Henderson, Nevada, befriended a neighbour's grandson, went swimming with neighbourhood children, and eventually returned to Belton. On February 18, 1991 he purchased a Glock 17 from a mail-order gun business in Henderson and in March a Ruger P89 from the same.
In June 1991 Hennard was arrested in Nevada after he was found drunk in his truck, and fined for possession of two loaded firearms. Hennard plead guilty to driving under the influence of alcohol and the charges of firearm possession and was fined to pay a total of $170.[2]
Relationship to women
Edit
According to a fellow merchant marine Hennard preferred foreign women, stating that they knew how to behave, while hating American women, because they tried to manipulate him.
Hennard had a girlfriend, but their relationship ended in June 1991, when she visited Hennard together with another man. Hennard got into a heated argument with the other man, until police was called by neighbours. In on June 6, 1991 Hennard sent a letter and pictures of himself to two sisters in his neighbourhood, asking them for a date. He had stalked the women since January 1988, followed them around town and tried to engage in conversations with them.[2]
On October 15, 1991 Hennard was eating at "The Nomad Turnabout", a convenience store and grill outside of Belton, which he often frequented, and became enraged when watching law professor Anita Hill on television during the Senate vote on Clarence Thomas' confirmation to the U.S. Supreme Court. He jumped from his seat, began yelling, "You dumb bitch! You bastards opened the doors for all the women!" and paced through the room, shouting obscenities, but eventually calmed down, when Bill Stringer, the manager, told him that he wouldn't tolerate that kind of language.[1][3]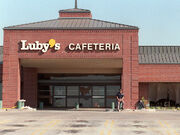 Around 12:40 p.m. Hennard crashed with pickup truck through a window to the right of the main entrance of Luby's cafeteria in Killeen, mowing down table and occupants, came to a stop inside the cafeteria. Hennard stepped out of vehicle, wearing sunglasses, yelling: "This is what Belton did to me!" Shot man trying to crawl from under a crashed table point-blank. Calmly walked through room, expressionless face, began shooting diners at random with two semi-automatic pistols, a Glock 17 and a Ruger P89. Had with him three 15-round magazines for Ruger, and three 17-round magazines for the Glock. First call to police at 12:40.16 p.m. Hennard continued shooting in a calculated manner, pausing only to reload weapons, yelling: "Tell me, people, was it worth it? Wait 'til those fucking women in Belton see this! I wonder if they'll think it was worth it!" Among the first killed was Olgica Taylor, Hennard approached her at the table, shot her twice, but spared her daughter, as well as her 4-year-old granddaughter, telling them: "You get that baby and get out of here! Run outside and tell everybody Bell County was bad!" Woman and girl running outside, Hennard continued rampage, near the serving line he shot a woman in the head, exclaiming: "Take that, you bitch!" then walked to the other end of the cafeteria, behind him a dozen people scampered to safety through a side door. Hennard approached the table behind which Al Gratia, his wife Ursula, and their daughter had taken shelter. When Hennard neared them, Al Gratia lunged at him, but was fatally shot in the chest.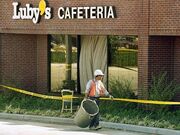 Around that time auto-mechanic Thomas Vaughn hurled himself through window, creating an escape route for about 30 people, while Gratia's daughter escaped through window, Ursula refused to leave her husband, was shot dead at his side. Also killed army lieutenant colonel Steven C. Dody, veterinarian Michael Griffith, wounded Griffith's friend, killed Suzann Rashott, killed Pat Carney, Nancy Stansbury and Ruth Pujol, who were among 15 members of the Killeen Independent School district celebrating Bosses' Day, also wounded two others, killed Venice Henehan, wounded her daughter and son-in-law, killed Zona Hunnicut and Clodine Humphrey, killed Tom Simmons, killed Jimmie Caruthers and others. 22 people died at the scene, Kriemhild Davis died four days later in hospital. 22 others were wounded.
According to Neal Knox an armed Texas Highway Patrolman was inside the cafeteria, but did not intervene, because he did no come under fire. Also according to Knox a police officer arrived at the scene shortly after Thomas Vaughn threw himself through the window, but did not engage Hennard, because he was ordered to set up a perimeter.[4] At about 12:41 p.m. two undercover officers from the Texas Department of Public Safety working near the cafeteria on another case arrived at the scene, were joined by a DPS sergeant and several other officers who had attended a seminar at a hotel nearby a few minutes later. Entered the building, shoot-out, Hennard was hit four times staggered to hallway leading to restrooms, when police closed in he shot himself in the head with his Glock.
The following day a 19-year-old employee of Luby's was discovered in a dishwasher where he had been hiding since the shooting. A movie ticket was found amongst Hennards possessions, allegedly for the movie "The Fisher King" in which features a mass shooting at a bar, but according to police it was uncertain what the ticket was for and there was no evidence Hennard had ever seen the aforementioned film.[2]
Fatalities from this shooting included:
Among those wounded were:
Louie Caraballo, hit by the truck and shot in the back,[5] Judy Ernst, shot in the arm, Steven Ernst, 49, shot in the stomach,[6] JoAnn Heckathorn, 50, shot in the hip,[7] Hazel Holley, 70, arm fracture,[8] Odene Huron, 74, glass injury[9] Kirby Lack, shot in the back,[10] Bernadette Leasure, shot in the buttocks,[11] Betty May, glass injury,[12] Shannon McMullen, shot in the leg,[13] Barbara Nite, shot in the foot,[14] Charlene Smith, shot in the foot,[15] John Swift, shot in the foot,[16] Thomas Vaughn, glass injuries.
Aftermath
Edit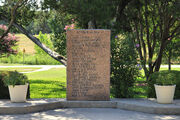 Bibliography
Edit
References
Edit
↑ 1.0 1.1 1.2 1.3 1.4 1.5 Gunman Lived 'A Life Of Profound Frustration', The Orlando Sentinel (October 20, 1991)
↑ 2.0 2.1 2.2 Cox, Bill: America's most horrific massacre, in Manselsberg, Rose G. (ed.): Mass Murderers; Pinnacle Books, 1993. (pp. 7 - 30) ISBN 1-55817-777-9
↑ Killeen police play down link of massacre, movie, The Victoria Advocate (October 20, 1991)
↑ Neal Knox Explains Luby's Massacre at youtube
↑ Luby's rampage victim revisiting grief, Houston Chronicle (November 7, 2009)
↑ Tragedy Strikes Family On Wedding Week With AM-Cafeteria Massacre, Associated Press (October 17, 1991)
↑ Shooting victim, Wellington Leader (October 24, 1991)
↑ Survivors learning to cope since murders at cafeteria, Portsmouth Daily Times (October 15, 1992)
↑ 23 Shot Dead at Texas Cafeteria, Los Angeles Times (October 17, 1991)
↑ Fort Hood attack stirs painful memories for '91 massacre survivor, CNN (November 9, 2009)
↑ Luby's victims expected to flood crime fund, The Austin American-Statesman (October 23, 1991)
↑ Gunman Kills 22 and Himself in Texas Cafeteria, The New York Times (October 17, 1991)
↑ A tragedy's aftermath, The Victoria Advocate (October 15, 1996)
↑ Getting shot, Texas Monthly (July 2002)
↑ Survivors shaken by shooting spree, The American Statesman (October 17, 1991)
Community content is available under
CC-BY-SA
unless otherwise noted.