Michael Slobodian
Background information
Birth name
Michael Peter Slobodian
Occupation
Student
Born
1958

Died

May 28, 1975(1975-05-28) (aged 16)
Brampton, Ontario, Canada

Cause of death
Suicide
Parents
Peter Slobodian
Attack information
Date
May 28, 1975
11:35 a.m – 11:40 a.m.
Location(s)
Brampton, Ontario, Canada
Target(s)
Brampton Centennial Secondary School
Killed
2
Injured
13
Weapon(s)
.444-caliber lever-action rifle
.22-caliber semi-automatic rifle
Michael Peter Slobodian was a Canadian high school student who killed two people and wounded 13 others, two of them seriously at the Brampton Centennial Secondary School in Brampton, Ontario, Canada on May 28, 1975, before committing suicide.[1][2]
Slobodian was born in 1958 as the son of Peter Slobodian, who had two heart attacks, was scheduled for cardiac surgery in June 1975, had an older sister named Dona
Skipped English and physics classes, teachers arsked parents for an explanation, According to his sister he had an affinity for guns, had lots of friends, was a good student. Lived about four blocks from school. played guitar and drums in a school band, neighbours described him as friendly, quiet, with few friends who mostly talked to his sister. Liked to go hunting with father. Joined the local militia group the in April.[3]
On his 16th birthday he got a .22-caliber semi-automatic rifle. In the months leading up to the shooting his behaviour changed, he shaved his head, showed an increasing interest in the military, wore a beret, joined the Lorne Scots. Had a complicated relationship with his English teacher, Mrs Wright, who according to Dean Nadon ridiculed his work in front of the class. A couple of weeks prior to the shooting he broke down in tears to Mrs. Wright, after his grandfather had died that May and his father was ill with a serious heart condition. Worked on a science project in which he used electrodes to keep frogs alive, which was rejected on grounds of new animal cruelty guidelines.[4]
Forged 35 parents notes to excuse his absences from various clases, Mrs wright was his confidante, he reportedly liked and respected her.[5]
Proposed a science fair project in which he wanted to dissect 13 frogs and afterwards keep them alive by electrical stimulation of the hearts, which was declinedby his physics teacher Ross Bronson.[6]
On May 28, 1975, at 8:45 a.m., Slobodian, together with his friend Stephen Kipfer, walked to Brampton Centennial Secondary School, which was four blocks from his home. According to Kipfer there was nothing unusual about him at that time. At 10:25 a.m. Slobodian failed to attend a physics class conducted by Ross Bronson, and during the morning his English teacher, Mrs. Margaret Wright, called his mother, reporting that he had been skipping classes.

Around 11:30 a.m. Slobodian and his sister returned home, whereupon he was confronted by his mother with his teacher's call. He promised to resolve the matter in the afternoon, and then went to his bedroom, where he took his .22-caliber semi-automatic rifle and a .444-caliber lever-action rifle, wrapped them in a blanket, and put them in a guitar case. After changing into military fatigues he bid his mother farewell, slid out unseen through the kitchen door, and, the guitar case in hand, made his way back to school.
Arriving there Slobodian entered a boys' washroom on the first floor, and went into a cubicle, where he loaded his weapons. At 11:35 a.m. students John Slinger and Michael Gibeault entered the room. Stepping out of the cubicle Slobodian killed Slinger with a shot in the stomach, and then fired at Gibeault, when he fled out into the hallway. Hit by a shot into the back that tore two holes in his diaphragm, bruised his liver, and injured his esophagus, Gibeault collapsed, but was dragged into the ladies washroom by a female student.
After seriously wounding Richard Shadrach, who had just entered the washroom, Slobodian went out into the hallway where he fired three shots with his .22-caliber rifle; two of the bullets hit Greg Keir and Jennifer Mather in the home economics room. Slobodian continued shooting in the hallway, at times firing both guns at once, and kneeling down to take aim, injured Jeff Rogers, Sylvia Meister and Karen Spragge in the process,[7] and then went down the main hall, where he fired a shot with his .444-caliber rifle through a door into the cafeteria that wounded Bev Bardeau, Brenda Weitendorf, and Susan Winklareth. Some of them apparently received cuts by glass fragments.[8]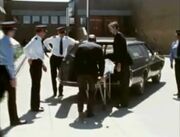 Afterwards Slobodian fired another round that hit Jane Thornton, and then entered Room 104 where he fatally hit Mrs. Wright by shooting her at point-blank range in the chest with his .444-caliber rifle. The bullet passed through Mrs. Wright's body and also hit student Dean Nadon, who was standing behind her, as well as Ernie Nicholls. Finally he went outside, dropped his .22-caliber rifle in front of the classroom, went towards Room 103, and committed suicide in the hallway by shooting himself in the head with his remaining gun.[5][3][4][9] The shooting had lasted for about five minutes.[10]
John Slinger, 17
Margaret E. Wright, 25
Those wounded were
Bev Bardeau, 18
Michael Gibeault, 19, shot in the abdomen
Craig Keir, 17, shot in the left elbow
Jennifer Mather, 17, shot in the left leg
Sylvia Meister, 15, shot in the arm
Dean Nadon, 17, shot in the left side
Ernie Nicholls, 19, shot in the abdomen
Jeff Rogers, 16, shot in the abdomen
Richard Shadrach, 16, shot in the chest
Karen Spragge, 16, shot in right arm and leg
Jane Thornton, 15, shot in the right side and right thigh
Brenda Weitendorf, 15
Susan Winklareth, 14, shot in the left foot
Suicide letters
Edit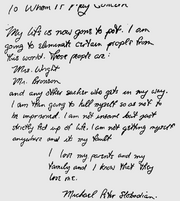 Hearing about the shooting Slobodian's father and sister went to the school to investigate. They were later joined by his mother, and When they returned home they found several suicide notes in his bedroom, one of which read as follows.[5][11]
"To whom it may concern
My life is now gone to pot. I am going to eliminate certain people from this world. Those people are:
Mrs. Wright
Mr. Bronson
and any other sucker who gets in my way. I am then going to kill myself so as not to be imprisoned. I am not insane but just strictly fed up of life. I am not getting myself anywhere and its my fault.
I love my parents and my family and I know that they love me.
Michael Peter Slobodian."
In another letter he wrote:[10]
"When I die, I hope to find a little peace upon my mind."
Aftermath
Edit
The incident sparked calls for tighter gun control, and a discussion about media violence. Blame was laid especially on the movie A Clockwork Orange, which was shown in Brampton theaters at the time.
An inquest into the case was held by Chief Coroner Harold Cotnam, which concluded on June 25 without finding a motive for the shooting. Dr. Gordon E. Warme and Dr. John Atcheson, two psychiatrists at the Clarke Institute in Toronto, who had conducted a postmortem examination of Slobodian's psyche, testified they had found no evidence that Slobodian had been mentally deranged, and that he was just a teenager who needed to be liked and accepted. They also stated that his unsatisfactory school attendance, forging of absentee notes, preoccupation with high academic achievement, and concern with physical complaints, may have been indications of an underlying mental problem, suggesting that Slobodian was subject to feelings of depression, and a sense of inadequacy and ultimate failure, but also stressing that no excessive significance should be attached to these.
The final report of the inquest issued the following recommendations:[10]
Raising the legal age for obtaining a hunting licence from 16 to 18 years
Obligation for anyone using a rifle or shotgun to obtain a licence
Issuing of the licence by the police departments upon "receipt of documents stating the applicant's reason for desiring the licence, training courses taken and a brief certificate of health"
Application of the licence should be subject to police apporval
Raising the legal age for a minor's rifle permit from 14 to 16 years and use of the rifle by the permit holder only in the company of the holder of a valid licence
Production of a licence for the purchase of ammunition
Record keeping by the weapon's seller on all sales of firearms and ammunition
Severe punishment for offences involving firearms
Secure locking of firearms in households
Implementation of a school attendance recording system
The recommendations eventually led to a gun law reform in 1977, which introduced the requirement of a Firearms Acquisition Certificate to purchase firearms.[4]
References
Edit
External links
Edit
Further reading
Edit
Community content is available under
CC-BY-SA
unless otherwise noted.