Mohammad al-Nazari

Mohammad al-Nazari during his trial
Background information
Birth name
Mohammad Ahman Misleh al-Nazari
Occupation
Bus driver (unemployed)
Born
ca. 1949

Died
Cause of death
Executed
Penalty
Sentenced to death
Attack information
Date
March 30, 1997

Location(s)
Sana'a, Yemen
Target(s)
Tala'i Private School
Musa Bin Nusayr School
Killed
6
Injured
12
Weapon(s)
Kalashnikov assault rifle
Mohammad Ahman Misleh al-Nazari (also reported as Muhammad Ahmad Muslih al-Naziri[1]) was a Yemeni unemployed bus driver who killed six people and wounded twelve others at two schools in Sana'a, Yemen, on March 30, 1997. He was eventually arrested after a shootout with police, sentenced to death and executed.
The 48-year-old, who had fought against the Soviets in Afghanistan, began his rampage at Tala'i Private School in the Asbahi township. Armed with an illegally obtained Kalashnikov assault rifle, he waited for Asma Abd al-Bari, the school's headmistress, and killed her by shooting her in the head.
After fatally hitting a cafeteria worker and injuring a bus driver who came to help the victims he entered the school building and walked from classroom to classroom, firing indiscriminately at teachers and students. Subsequently he went to nearby Musa Bin Nusayr School where he continued his rampage, that left a total of six people dead and 12 others wounded. Nazari was eventually engaged by police, and arrested after being injured himself.[2]
Those killed were:[3]
Asma Abd al-Bari, headmistress of Tala'i school
Muhammad Yahya al-Ulufi, teacher at Tala'i school
Husayn Ali Qa'id al-Ba'dani
Ali Muhammad Muqbil al-Awadi
Imad Muhammad al-Raymi
Unidentified student, died on April 1[4]
Possible motives
Edit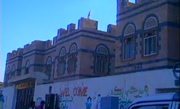 Nazari, whose five children attended Tala'i Private School, alleged that his 8-year-old daughter had been kidnapped and raped 18 months prior to the shooting by people with whom he had a feud over a plot of land, and that the school's headmistress and her husband had approved the kidnapping. He also stated that the administration of Musa Bin Nusayr School had approved the kidnapping of his son, though no evidence was found of this, and a medical examination of Nazari's daughter found her to be still a virgin.[1][5]
Nazari, who according to investigators suffered from schizophrenia,[1] had been a bus driver for the two schools, but was fired for unknown reasons some time before the shooting.[6]
Aftermath
Edit
After being declared sane Nazari was sentenced to death on March 31 for killing a headmistress, a teacher, a cafeteria worker, a bystander and two students. Furthermore it was decided that the treatment of Nazari's victims should be paid with his personal funds and that his house and car should be confiscated. His subsequent appeal was dismissed on April 2, though an initial sentence to nail his body on a cross for three days was repealed, before he was executed with five shots in the chest in an empty lot between the two schools on April 5, 1997.[3][7][8]
After his execution, Nazari's body was kicked to a pulp by angry citizens and burned. His daughters fought the courts against the execution but lost. The daughter who was allegedly raped committed suicide five years later; the other four children all died in a train accident in 2006.
References
Edit
↑ 1.0 1.1 1.2 San'a school gunman reportedly schizophrenic, Republic of Yemen TV (March 30, 1997)
↑ Yemeni father's school slaughter, The Independent (March 31, 1997)
↑ 3.0 3.1 Court sentences San'a school gunman to death, Republic of Yemen Radio (March 31, 1997)
↑ Killer ordered shot, then nailed to cross, Toledo Blade (April 3, 1997)
↑ Gunman to die for killing five in schools New Straits Times (April 1, 1997)
↑ Man accused of killing 6 people is sentenced to death, Associated Press (April 1, 1997)
↑ Yemen Executes Killer of Six, The Washington Post (April 6, 1997)
↑ Around The World, The Seattle Times (April 2, 1997)
External links
Edit
Community content is available under
CC-BY-SA
unless otherwise noted.