Mohammed Nawaz
Occupation
Driver (retired)
Penalty
Sentenced to death
Spouse(s)
Kaniz Fatima
Attack information
Date
September 21, 2002
2:15 a.m.
Location(s)
Islamabad, Pakistan
Target(s)
Family
Killed
7
Weapon(s)
Shotgun
Pistol
Drugs
Mohammed Nawaz was a Pakistani retired driver who killed seven of his relatives at his house in Sector G-7/2 of Islamabad, Pakistan on September 21, 2002. He was afterwards arrested and sentenced to death seven months later.[1]
Nawaz worked as a driver for the interior ministry, and was also president of the government institution's drivers' union, but at the time of the murders was on leave before retirement.
He married Kaniz Fatima, a Christian, some time around 1984, after she had converted to Islam, and with her had two sons and two daughters. According to reports Nawaz had abducted her, and her parents had filed charges of rape and abduction against him at the time, but for unknown reasons he was not prosecuted.[2]
Much to his distress one of his daughters, Aasma, started a relationship with her Christian cousin Naveed Ilyas in 2001, and eventually left for Lahore to marry him. Angered by this Nawaz lodged a First Information Report for abduction with the Aabpara police. Later on his son Abdul Qadir married a Christian woman named Aasia, who was pregnant at the time she was killed, which aggravated him even further.[3][4] He also became subject to his relatives' and friends' criticism who objected to his children's behaviour, stating that it was against the teachings of Islam and punishable by death.[2]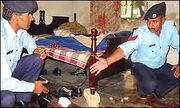 To protect the honour of his family from his children's, as he saw it, immoral activities Nawaz plotted to kill them all, and therefore invited Aasma and Qadir together with their spouses for dinner on September 20, 2002, telling them that he was to undergo surgery and wanted to sort out some differences with them. He also invited those relatives who had helped his daughter to run away and marry Naveed, but they did not show up. At the Friday prayer on the day of the murders he told several of his friends that he was going to kill his daughter and son-in-law for their blasphemous acts.[2]
At the dinner Nawaz served his family soft drinks that were heavily laced with a toxic substance. After drinking from them they soon lost consciousness, and at around 2:15 a.m. Nawaz killed his relatives with a shotgun and a pistol, starting with Naveed and Qadir. One of his sons apparently tried to escape after being shot, but was dragged from the front door back into the room.[5]
Afterwards Nawaz called the police and his brother to inform them about the murders and locked himself inside his house, apparently with the intention to commit suicide. Police arrived at the scene soon thereafter, convinced him to surrender, and took him into custody, where he confessed to the crimes.[3][4]
Kaniz Fatima, 50, his wife
Aasma, 23, his daughter
Naveed Ilyas, 21, husband of Aasma
Abdul Qadir, 21, his son
Aasia, 18, wife of Abdul Qadir
Abdul Kabir, 19, his son
Aamna, 18, his daughter
Aftermath
Edit
Nawaz was charged with the murders on January 17, 2003 and on April 7 denied in court to have committed the crimes, or to have had any knowledge of them.[6] On April 16 he was sentenced to death seven times by the Islamabad district court, convicted to a further 42 months of rigorous imprisonment, and also fined to pay Rs 2.1 million.[7][8][9][10]
References
Edit
Community content is available under
CC-BY-SA
unless otherwise noted.