S.S. Klang amok case

The S.S. Klang and its captain Murdoch McDonald.
Date
October 31, 1925

Location(s)
S.S. Klang
Killed
8
Injured
5
On October 31, 1925 an unidentified man killed eight people and wounded five others aboard the steamship Klang, before being shot dead.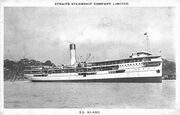 [1][2][3][4][5][6][7][8][9][10][11][12][13][14][15] [16] [17] [18] [19] [20] [21] [22] [23] [24] [25] [26] [27] [28] [29] [30] [31] [32] [33] [34] [35]
Murdoch McDonald, 67, captain
Low Hiung Twan, cook
Wang Ha Kok, fireman
Hadji Bakari
Atam bin Sahat
Santong bin Wmok
Banja Misser
Unnamed woman
Wounded were:
William Rae, chief engineer
Wong King Pok, ships boy
Rakipan bin Ahmat
Tay Chew Wee
Climab Ratnam
Unnamed man, injured in fall
References
Edit
Community content is available under
CC-BY-SA
unless otherwise noted.