Jurassic World: Dominion Dominates Fandom Wikis - The Loop
Play Sound
Thomas Kosberg
Background information
Birth name
Thomas Gordon Kosberg
Born


October 2, 1948
Died
Penalty
Found to be insane
Imprisoned at
Riverview Hospital
(released in 1977)
Parents
Osborne Kosberg
Dorothy Kosberg
Attack information
Date
December 10, 1965
4 a.m.
Location(s)
Vancouver, Canada
Target(s)
Family
Killed
6
Weapon(s)
Axe
Bare hands
Sleeping pills
Thomas Gordon Kosberg was a Canadian who killed six members of his family in Vancouver, Canada during the early hours of December 10, 1965. He was later arrested, found not guilty by reason of insanity in 1967, and committed to a psychiatric hospital, where he remained until his release in 1977. He died in 2016.[1][2][3]
Life
[
]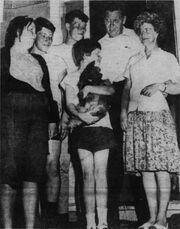 Kosberg was born on October 2, 1948 as the son of Osborne and Dorothy Kosberg. He had five siblings, Barry, Marianne, Gayle, Vincent, and Osborne jr., and lived with his family in a house at 142 East 22nd Avenue. He attended General Wolfe Elementary School and Sir Charles Tupper Secondary School. According to friends the Kosbergs were a close and happy family, and the children would do everything for their parents. Kosberg himself was described as a nice kid with a history of mental illness, and he once lived at a residence for disturbed boys run by the Central City Mission. Robert Estergaard, youth supervisor of Central City Mission, related that he got along well with everyone, but kept running away from home and the mission.[4][5][6][7][8][9]
According to Dr. Bennett Wong, who had treated him for six months, Kosberg's mental disorder dated back to 1961 and his last treatment was about a year prior to the murders. In January 1964 he was admitted to the Crease Clinic, a mental institution that is part of the Riverview Hospital – some sources reported that he had been there in 1961 as well. He was discharged in May the same year, and subsequently attended group therapy classes at the clinic and elsewhere. According to Dr. B. F. Bryson, superintendent at Crease Clinic, Kosberg had a history of emotional disturbance and a personality problem that was expected to be found in many teenagers of his age. He also stated "[t]here was no indication that [Kosberg's] condition would lead to a breakdown or manifestation of violence at some future date." Two days before the killings Kosberg again tried to see Dr. Wong, but Wong's message for an appointment on December 15 did not reach him.[6][10][11][12]
Murders
[
]
According to a statement read in court during his trial, Kosberg bought a bottle of 25 sleeping pills the night before the murders, and while his family and a friend of his mother, only known by her first name, Florence, were watching TV on December 9, he prepared chocolate milkshakes for them, which he laced with the drug. The nearly empty pill bottle was later found by police, corroborating the story, however, an examination of the bodies found no traces of bromide, barbiturates, or alcohol. Florence fell asleep, but woke up around 11 p.m. and left for her home in a taxi, after declining Kosberg's suggestion to stay for the night.[5][12][9][13][14]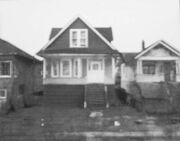 When Kosberg's father returned home from his night shift as a truck driver at the Allied Heat and Fuel Company by 1 a.m., he found his family already asleep. He also drank one of the milkshakes and then went to bed. At 4 a.m. Kosberg eventually went to the basement, fetched a double-bitted axe, and proceeded to kill his family, first attacking his siblings, before turning against his parents. According to police four of the five initial fatalities died in bed without a struggle. All of the victims were hacked in the head multiple times, causing severe skull and brain injuries, however, according to the pathologist, none of them died instantaneously. The only survivor of the family besides Kosberg was his 6-months-old brother Osborne, jr., whom he was suspected of having tried to smother.[5][13][14][15][16][17]
After the murders Kosberg changed his clothes, took his father's car, and ran it into a power pole, whereupon he stole another car, and finally telephoned Robert Estergaard, who took him to Dr. Wong. According to Estergaard, Kosberg was trembling, having cramps, and kept holding his stomach, but at times would also drift off to sleep. They arrived at Dr. Wong's at 7 a.m., where Kosberg confessed to the crime, stating that he had "done someting awful." Wong called the police at 7:45 a.m. and Kosberg was arrested shortly afterwards.[5][6][10][15][11][12]
When officers arrived at the crime scene they found Mr. and Mrs. Kosberg dead in their beds, while their son Vincent lay dead on the floor, and Osborne jr. was in his crib, apparently unharmed. In the rear bedroom they discovered the body of Barry, and in the front bedroom that of Gayle Kosberg. Marianne, who was in the same room as Gayle, was still alive in her bed, but with serious head injuries. She was taken to hospital in critical condition, where she underwent emergency surgery, and eventually died on December 19, without regaining consciousness.[6][10][11][17][18][19]
Victims
[
]
Osborne Kosberg, 39, his father
Dorothy Kosberg, 40, his mother
Barry Kosberg, 15, his brother
Marianne Yvonne Kosberg, 13, his sister
Gayle Kosberg, 11, his sister
Vincent Kosberg, 2, his brother
Aftermath
[
]

After his arrest Kosberg made a brief appearence in juvenile court where he was charged with five counts of juvenile delinquency in connection with capital murder. On December 14 he was declared mentally ill, and committed to the Riverview Mental Hospital, until his partial or complete recovery, or until further cabinet order.[8][15][18][20][21][22]
During his trial in 1967, which only lasted for a few hours, Kosberg pleaded not guilty, but admitted in a statement of fact, read to the court, that he had attacked his family with an axe, after putting them to sleep with drugged milkshakes. Two psychiatrists testified that he suffered from a mental disturbance when he committed the murders, preventing him from appreciating the nature and quality of his actions. One of them, Dr. Joseph Thomas, described Kosebrg as "an automatic person capable of carrying out a complex and deliberate plan," but who was incapable of discerning right from wrong. He also believed that Kosberg was suffering from a schizophrenic reaction and that his mental disorder had reached an uncontrollable state on the night of the murders. According to Dr. Wong, Kosberg gave the impression during his interview immediately after the attack that he was fully convinced he was morally justified in killing his family.[5][12]
On February 16, 1967 the Vancouver Supreme Court found Kosberg not guilty by reason of insanity and ordered him to be confined at the Riverview Mental Hospital pending further instructions from the lieutenant-governor in council.[23][24]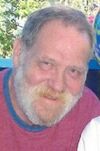 In September 1977 Kosberg was declared to pose no danger to society and was ordered by the provincial cabinet to be released on the conditions that he had to live in an approved place in British Columbia and must report to an appointed official at least once per week. Furthermore, he was was also forbidden to possess any firearms and could be ordered back to Riverview at the discretion of the board.[8][25]
After his release Kosberg married and worked for the Vancouver Children's Hospital for 30 years. He died on January 1, 2016.[4][12][26]
References
[
]
Further reading
[
]