Vinko Palić

The rectory where the shooting took place.
Background information
Birth name
Vinko Palić
Occupation
Soldier
Born
ca. 1964

Died

January 1, 1993(1993-01-01) (aged 28)
Zrinski Topolovac, Croatia

Cause of death
Suicide
Attack information
Date
January 1, 1993
~0 a.m. – 2 a.m.
Location(s)
Zrinski Topolovac, Croatia
Killed
9
Injured
5-7
Weapon(s)
Automatic rifle
Vinko Palić was a Croatian soldier who killed nine people and wounded at least five others at a New Year's party in Zrinski Topolovac, Croatia on January 1, 1993, before committing suicide.[1][2][3][4][5]
Palić, a member of the 105th Brigade, was recruited by the Yugoslav People's Army on April 6, 1983 and assigned to the artillery due to his limited mental abilities. On August 31, 1992, after the assistant of the Surgeon General had diagnosed him as suffering from PTSD, Lt. Dražen Novak of the military police asked for Palić's referral to a psychiatrist to assess, if he was still fit for military service, or should be demobilised, but due to the ongoing conflict in the region this recommendation was ignored. Two weeks prior to the shooting he was put on leave and he returned home.[6][7][8]
During the night from December 31, 1992 to January 1, 1993 Palić attended a New Year's party at the local rectory in Zrinski Topolovac where about 40 mostly young people had gathered. Some time after midnight he got into an argument with one of the other revelers, 27-year-old Vinko Rodić, when his advances towards 17-year-old Marija Ćibarić were rejected. Angered by his unrequited affection he went home, changed into his uniform and armed himself with an automatic rifle.[6][7][8]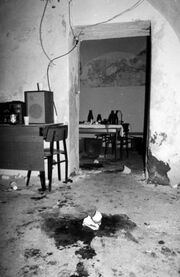 Back at the rectory Palić commenced shooting, killing amongst others Marija Ćibarić and Nikola Gucić, who tried to stop him, and wounding his own brother, while he spared the local priest. When police arrived at the scene he drected his fire at them, fatally hitting in the process officer Blaž Majdandžić and injuring his colleague Darko Mikačević. Two hours into his rampage the 28-year-old eventually shot himself. He died on his way to hospital. By that time nine people were dead, while the number of wounded was variously given as five, or seven, with several of them reportedly in critical condition. When police later searched Palić's home they discovered another automatic rifle and ammuntion, as well as rifle grenades, and anti-tank mines.[6][7][8][9]
Relatives of Palić's victims sued the Croatian state for damages of seven million kuna in what would become the most expensive litigation in Croatian history. In 2005 the Constitutional Court adjudged those injured a compensation of 639,600 kuna, ruling that the lawsuit had been delayed unreasonably long. In 2010 the Zagreb Municipal Civil Court dismissed the case on grounds that Palić had been on leave during the shooting and that there was no proof that the weapon used was property of the Croatian state. It also found that there was no medical evidence that Palić had been mentally ill. The case of the killed and wounded police officers was remanded for a new trial since they were harmed while on duty, though the initial verdict was confirmed by the Zagreb County Court in a final ruling in September 2011.[6][7][8]
Marija Ćibarić, 17
Nikola Ćibarić, 17, brother of Marija Ćibarić
Paško Gashi
Sebastijan Gashi, 26, brother of Paško Gashi
Nikola Gucić, 20
Toni Gucić, 19, brother of Nikola Gucić
Blaž Majdandžić, police officer
Vlad Rodić, 27
Filip Rodić, 20
Those wounded were:
Geta Čibarić
Češko Čibarić
Darko Mikačević, police officer
Silvestar Gaši
Andrija Palić, his brother
References
Edit
Community content is available under
CC-BY-SA
unless otherwise noted.